Posted on | February 8, 2013 | 11 Comments
It is very important! Let me know whether you can be in DC on February 12 and protest treason among our judges, our Attorney General, U.S. Attorneys and congressmen who are criminally complicit and cover up Obama's use of forged IDs and a stolen CT SSN 042-68-4425.
Help me stop this criminal enterprise destroying the country. Corrupt judges and corrupt congressmen and senators who can be complicit in stealing the White House, in usurping the presidency by a foreign national, a criminal with all forged IDs, will be complicit in stealing your house and all of your savings. And when there will be nothing left to steal from you, they will steal your very freedom. People who fight for their rights have a chance in preserving their rights. If you are asleep or scared to be there in their face and demand that they stop treason and and stop this theft and usurpation of the Presidency, you will lose everything you have. they will be more bold in looting the treasury and printing worthless money, in giving amnesty to millions of illegals in order to reduce your wages, you will be reduced to a level of a slave or a serf, if you are not willing to fight for your rights!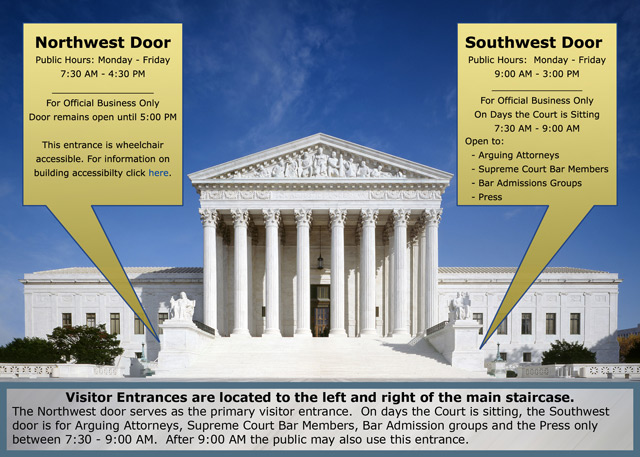 Location and Directions
The Supreme Court of the United States is located on First Street NE between East Capitol Street and Maryland Avenue, adjacent to the U.S. Capitol and the Library of Congress. View area map.
By Metro (Subway):
The closest Metro stops are:
Capitol South (Orange & Blue Lines, 0.3 miles)
Union Station (Red Line, 0.5 miles).
By Metro Bus:
The Circulator (Navy Yard Line), 96, 97, and A11 buses all stop in front of the Supreme Court Building. The 32, 34, 36, and 39 buses stop at First Street and Independence Avenue, a two block walk from the Building.
Additional information on riding the Metro is available at the Washington Metropolitan Area Transit Authority homepage here.
By Train:
Amtrak, VRE, and MARC trains service Union Station, which is located approximately 0.5 miles from the Court.
By Car:
Street parking is extremely limited near the Supreme Court. The closest public parking garage is located at Union Station.
Comments