Posted on | December 22, 2012 | 7 Comments
YahooNews reports on legal action by Orly Taitz
Yahoo.com on its front page published an article about the Chairman of AZ GOP  and other electors speaking out about Obama not having valid IDs. This is particularly important as Tom Morissey, chair of AZ GOP has years of experience in law enforcement. This announcement came as a result of me serving them with the complaint and request for stipulation to stay certification of votes for Obama pending adjudication on the merits the issue of Obama's  use of forged IDs and fraudulently obtained CT Social Security number. Yahoo stated that this announcement by the top AZ politicians came on the hills of the legal action by Orly Taitz.
This is huge! Yahoo.com is #4 globally out of some 30 million websites. (#1 is the highest) Yahoo reached 20% of Internet users globally. Additionally, Yahoo.com picked this article from ANI, Asia News International, which in itself is one the largest news organizations in the world.
The fact that Yahoo.com mentions my legal action on the front page, gives an enormous exposure and reach to this legal action.
Just to give you an idea of the magnitude of the reach, per Ranking.com:
WND is ranked around  #8,000 and reaches about 0.05% globally
Huffington post is ranked 84 and reaches around 1.% globally
Yahoo.com is ranked #4 and reaches 20% globally
My only concern is that ANI reporter made a mistake. She wrote that I filed a law suit in Federal court in Arizona.  The law suit is filed in the Federal court in the Eastern District of California. I am asking my supporters to contact Yahoo.com and ANI and ask that they note that my case is in the Eastern district of California, ask that they post a link to mu site, so the public can see the pleadings, exhibits, summons and subpoenas Grinols order, summons, TRO, complaint
Additionally, if you can send a FedEx or certified mail package to your congressmen and sign a proof of service via FedEx, please e-mail me at orly.taitz@gmail.com If you do not hear from me for a couple of hours, assume I did not receive your e-mail and call 949-683-5411. I suspect that I do not receive all of my e-mails. I know that a lot is being scrubbed and de-linked from the Internet. 1.2 million articles on Google about my cases were scrubbed/de-linked within a couple of days. I am not sure, what is happening with the e-mails.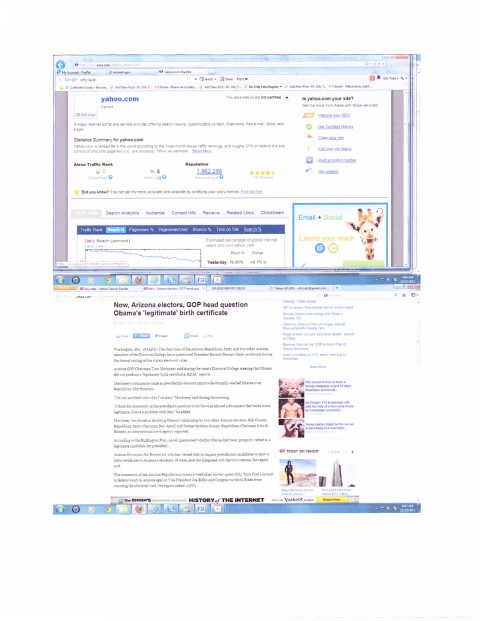 Category:
Events
,
HOT ITEMS!
,
Latest News
,
Legal Actions
,
LINKS
,
Obama Fraud Gate
,
orly taitz attorney
,
Orly Taitz doctor and attorney
,
Orly Taitz Obama birth certificate
,
Orly Taitz Obama social Security number
,
Orly Taitz ObamaFraudGate
,
Orly Taitz subpoena
,
Other Criminal or Suspicious Activities
,
Radio and Media Broadcasts
,
Supporting Documentation
Comments