Posted on | June 29, 2010 | 30 Comments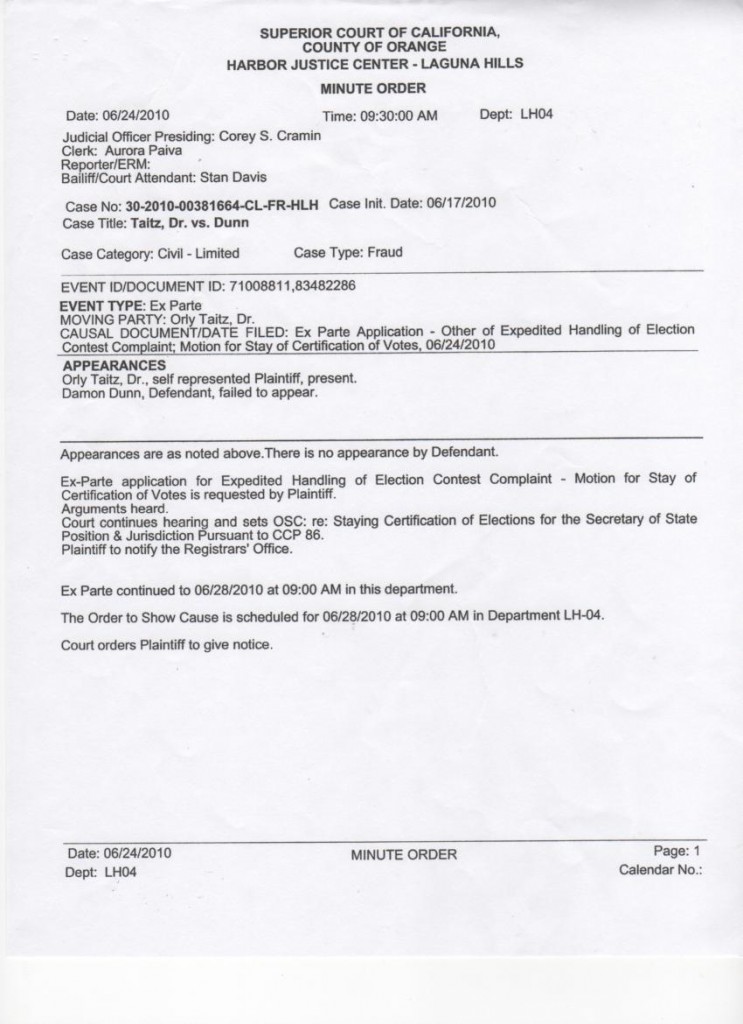 An order to show cause was issued by Superior Court Judge Corey Cramin  in Taitz v Dunn upon motion by the paintiff  Taitz against defendant Dunn. Complaint is filed on the issues of Elections Contest and fraud.
Here are some explantions for  the readers of this blog, who are not attorneys.
1. What is an order to show cause?
It means that the judge reviewed the evidence and intends to issue such order,  he is telling a party that he will issue such order, unless this party provides some serious argument why such order should not be issued by the judge. Most orders to show cause actually end up being orders. In this case it would be an order to stay certification of votes for Damon Dunn.
2. What does it meand, that the case was transferred from limited jurisdiction to unlimited?
I filed originally in Laguna Hills, jurisdiction  where defendant resides and where witnesses reside.
Judge on the case felt that he does ot have enough jurisdiction for a couple of reasons:
Money damages in limited are $25,000 (money was not my main concern, even though I spent some $40,000 of my retirement savings),
2. He did not feel he has enough jurisdiction to issue an order upon 58 registrars of voters, so he transferred the case and the order to Central Justice Center, Unlimited jurisdiction.
3. What is happening with criminal charges?
I am not handling criminal charges. I originally filed a complaint ith the registrar. At that time, in March, I had limited evidence and DA responded that they don't  have enough evidence to prove the case beyond the reasonable doubt.
Later, in April, May and June I obtained more evidence, such as letter from FL, stating that Dunn asked to delete his voter registration records there, but he did not make necessary mandatory disclosures here. In June I got information regarding sponsors of nomination for Dunn, who stated that they didn't sign the nominations. All of this was forwarded to the Public Integrity Unit of the District Attorney of Orange County. If you have any questions in regards to criminal investigation of Damon Dunn, whether grand jury was convened, you need to address it with them, I don't have this information. I know that in the past they convicted a number of politicians of voter fraud, voter registration fraud, some went to prison, but we never had a case where a person committing voter registration fraud is actually running for the position of Secretary of State   to be in charge of voting.
Comments