Posted on | June 5, 2014 | 16 Comments
Press release: Typesetting expert confirms that the copyright document for Obama's book was falsified/forged as well
Law offices of Orly Taitz.
Paul Irey, who was certified as an expert by Judge Sherry Reid  in Obama trial in Indiana, has confirmed that indeed, Obama's copyright for his book "Dreams from my father" was falsified. In the area where one has to post the birth date of the author, Obama posted USA. Clearly, a constitutional scholar and editor of Harvard law review should  understand the meaning of the question : "what is your date of birth". Shockingly, Obama answered USA. Typesetting expert, Paul Irey, confirmed that the typesetting in this word "USA" is different from the rest and it was done using a manual typewriter which was not in use by professional publishing houses.
Taitz still proceeds with a number of legal challenges against Obama in multiple courts.  Your support and your donations make it possible for Taitz to continue her work and continue to challenge Obama when everyone from members of Congress to law enforcement officials and judges are scared to do anything . You can donate via pay-pal at www.OrlyTaitzESQ.com  or by  mail at 29839 Santa Margarita, ste 100, Rancho Santa Margarita, CA 92688
11:49 AM (44 minutes ago)
Orly,
You may recall that in an attempt to verify that the Obama copyright form in the copyright offce is the same as the one you were given … Chris Strunk had a patent attorney apply for a copy.
He says that the attorney was informed that they would not release it.
It might be useful if you could file a freedom of information request for it.
Otherwise I think it should be made public that the one you have presents a form with typewriter type from an old manual typewriter not likely used at Random House publishing in 1994.
In addition … the part of the form identifying the country of birth … USA … is typed twice on the in two places but the size of the typewriter type is obviously not the same for each.
Just like Obama's forgery … and this suggests that rather than use two people to remake the form possibly because the country of birth was Kenya and the real form had to be replaced  … the same forger who created Obama's forgery was used to make it.
Why have two forgers get involved … doubling the chance of one of them admitting to the crime?
I predict the forger may disappear soon because just like Fuddy … she is in the same situation now.
If Zullo would just file charges against her own forgery with the FBI and make that public … the FBI would be forced to arrest her and she might be forced to testify to avoid prosecution for treason.
Thank you for calling attention to the problems Chris had in getting something in writing from judge Schmidt that I could testify in Brooklyn.  I am still waiting for this and I understand that Shrimpton has been denied a visa to come and testify also … so that hearing is still up in the air as far as I'm concerned.
Obama copyright Dreams from my father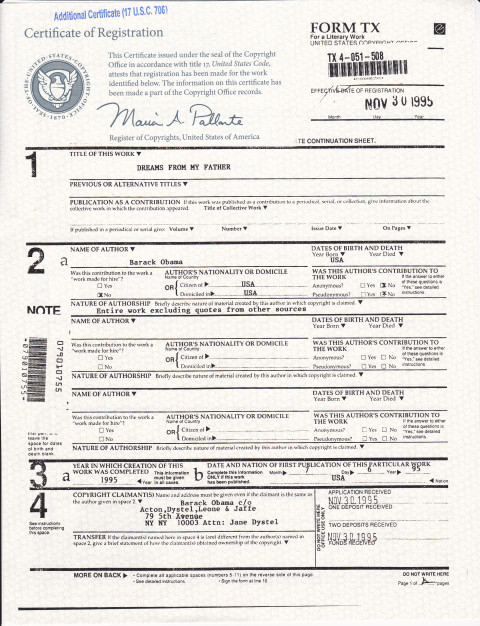 Comments