Posted on | March 15, 2013 | 12 Comments
Press Release
During the CPAC convention Attorney Orly Taitz was able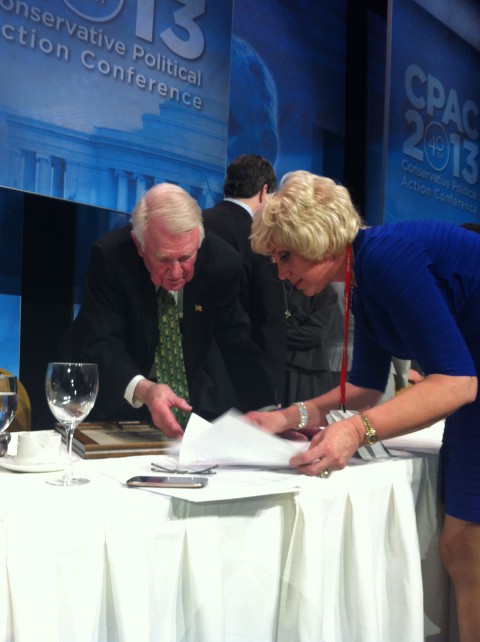 to discuss the issue of Obama's forged IDs with former Attorney General of the United States from Reagan Administration Edwin Meese who also has 30 years of experience as an intelligence officer in the U.S. military. (The photograph of Taitz handing documents to Meese was taken by Bailey Hall, Chief of Staff for Congressman Runyon)
Specifically Taitz provided Attorney General Meese a copy of Obama's 2009 Tax Return, which was  posted by Obama on WhiteHouse.gov on April 15, 2010, PDF of which was not initially flattenned before posting, and which contains an unredacted Social Security number 042-68-4425 used by Obama in his tax returns. Taitz also provided Meese E-Verify and SSNVS reports showing that the Social Security number used by Obama was never  assigned to Obama , as such we have the most serious National security breach, an individual with a stolen Social Security number is residing in the White House.. Taitz  advised Meese that she brought a legal challenge in the Federal Court in California and that the Holder Department of Justice appeared on behalf of the U.S. Congress seeking to dismiss the case, presenting to the judge that the U.S. Congress does not want the court to adjudicate on the merits. Taitz related to  Meese that a number of U. S. Representatives and U.S. Senators advised Taitz that when the Department of Justice made such statement, the U.S. Attorneys did not consult with the Congress, that the members of Congress were kept in the dark and that we have now a scandal much bigger than Watergate that involves not only the President, but also the Attorney General and the Department of Justice.
Attorney General Meese listened very attentively, he appeared more alert and attentive than many congressmen and senators, who are half his age. He stated that he will review the documents and will get back.
More photographs of the conversation were taken by another attorney and will be posted when they are received.
More information and evidence in Grinols et al  v Electoral College, U.S. Congress, Biden and Obama and other cases can  be found on Orly Taitz ESQ.com. Attorney Taitz is conducting this case pro bono. Neither one of the Plaintiffs was charged any costs or attorneys fees. Taitz is making an enormous effort of traveling to Washington DC repeatedly in order to ascertain whether the Department of Justice advised members of the U.S. Congress that there is such a serious breach of the U.S. National Security, whether members of the U.S. Congress directed the U.S. Attorney to ignore 200 pages of affidavits showing Obama using all forged IDs and a stolen Social Security number. Donations from supporters are greatly appreciated and will allow Taitz to continue this battle in spite of nrelenting attacks on Taitz by Obama supporters and by others acting directly or indirectly using resources of the government and  judiciary.  Donations can be given through paypal or  sent to the address posted on OrlyTaitzESQ.com
Law Offices of Orly Taitz
29839 Santa Margarita, ste 100
Ranho Santa Margarita, CA 92688
orly.taitz@gmail.com Supporters and any and all law abiding U.S. citizens are asked to contact their U.S. Representatives and Senators and demand answers, whether they directed the Department of Justice to act on their behalf, cover up all the evidence and seek dismissal of this case or whether the Department of Justice went behind their backs in order to aid and abet Obama.
We have on our hands a case of  the most serious breach of National Security, widespread corruption and High Treason. There are a number of  powerful individuals behind this crime, however we absolutely have to win this battle. We have to get the original documents that haven't been provided in 4 years, we have to get to the truth, we have to end the usurpation of the U.S. Presidency. If we do not win this battle, the repercussions on the U.S. National Security, economy and rights and freedoms of the U.S. citizens will be disastrous for generations to come, possibly irreversible.
Category:
Events
,
HOT ITEMS!
,
Latest News
,
Legal Actions
,
LINKS
,
Obama Fraud Gate
,
orly taitz attorney
,
Orly Taitz for U.S. Senate 2012
,
Orly Taitz Obama social Security number
,
Orly Taitz ObamaFraudGate
,
Other Criminal or Suspicious Activities
,
Supporting Documentation
Comments