Posted on | August 2, 2009 | 176 Comments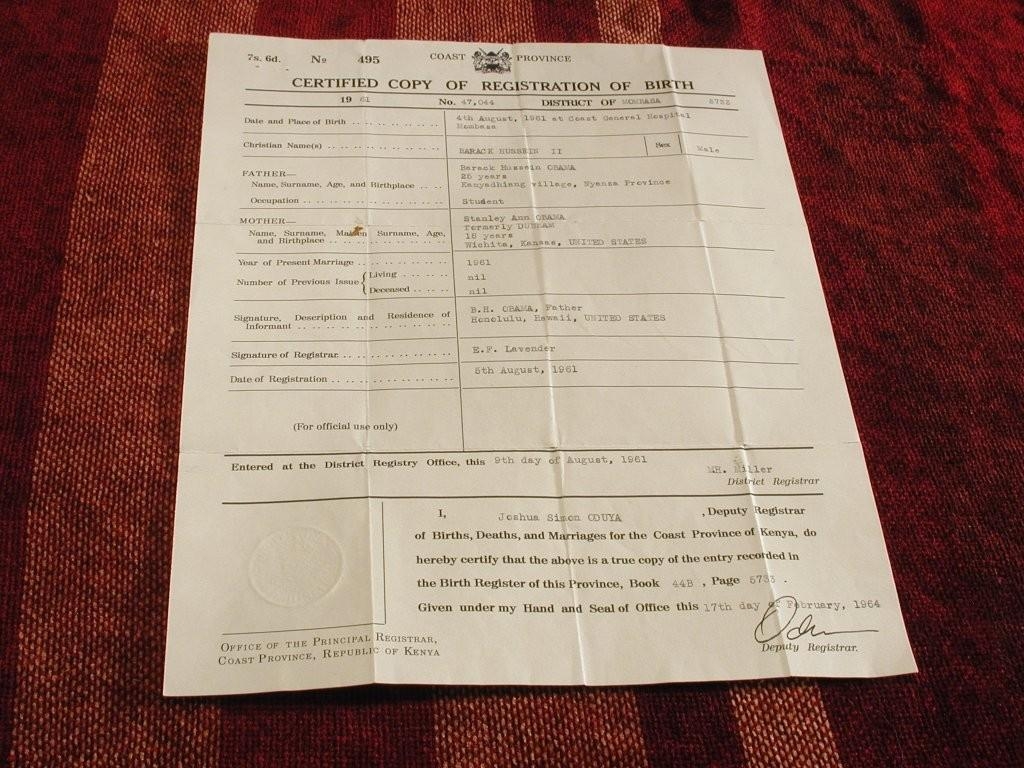 Dr. Orly Taitz
Attorney-at-Law
Orly Taitz Law Offices
26302 La Paz, Suite 211
Mission Viejo, California 92691
Telephone: (949) 683-5411
E-Mail: dr_taitz@yahoo.com
UNITED STATES DISTRICT COURT
FOR THE CENTRAL DISTRICT OF CALIFORNIA
SANTA ANA (SOUTHERN) DIVISION
Captain Pamela Barnett,                                 §
Lt. Colonel Richard Norton Bauerbach          §
Captain Robin D. Biron                                 §
Colonel John D. Blair,                                   §
Mr. David L. Bosley,                                     §
Ms. Loretta G. Bosley,                                   §
Captain Harry G. Butler,                                §
Representative Glenn Casada, Tennessee       §
Jennifer Leah Clark,                                      §
Representive Timothy Comerford, NH          §
Charles Crusemire,                              §
Representative Cynthia Davis, Missouri         §        Civil Action No.:
Chief Warrant O. Thomas S. Davidson         §        SACV09-00082-DOC (Anx)
Matthew Michael Edwards,                            §        TRIAL-BY-JURY
Lt. Jason Freese,                                            §        DEMANDED
Mr. Kurt C. Fuqua,                                        §
Officer Clint Grimes,                                     §
Representative Casey Guernsey, Missouri     §
Julliett Ireland,                                               §
D. Andrew Johnson,                                      §
Israel D. Jones,                                              §
Timothy Jones,                                              §
Alan Keyes, Ph.D.,                                        §
Commander David Fullmer LaRoque,           §       
Gail Lightfoot,                                               §
Lita M. Lott,                                                  §
Major David Grant Mosby,                            §
MSGT Steven Kay Neuenschwander,            §
Representative Frank Niceley, Tennessee      §
Retired Senator Jerry O'Neil, Montana,         §
SFC E7 Robert Lee Perry          ,                             §
Representative Larry Rappaport, NH             §
Colonel Harry Riley,                                      §
Sergeant Jeffrey Wayne Rosner,         §
MSGT Jeffrey Schwilk,                                 §
Captain David Smithey,                                 §
Lt. Commander John Bruce Steidel,              §
Cmdr. Douglas Earl Stoeppelwerth                §
Thomas J Taylor,                                           §
Representative Eric Swafford, Tennessee      §
Captain Neil B. Turner,                                  §
Richard E. Venable,                                       §
LCDR Jeff Graham Winthrope, and              §
Lt. Colonel Mark Wriggle,                             §
                              Plaintiffs,                         §
                                                                      §
                    v.                                               §
                                                                      §
Barack Hussein Obama,                                 §
Michelle L.R. Obama,                                    §
Hillary Rodham Clinton, Secretary of State,  §
Robert M. Gates, Secretary of Defense,         §
Joseph R. Biden, Vice-President and             §
President of the Senate,                                  §
                              Defendants.                     §
SPECIAL MOTION FOR LEAVE TO CONDUCT PRE-RULE 26(f) DISCOVERY
TO DEFENDANT HILLARY RODHAM CLINTON and
CERTAIN NON-PARTY WITNESSES
TO PERPETUATE TESTIMONY, PRESERVE EVIDENCE, and to
TRANSMIT LETTERS ROGATORY PURSUANT to
28 U.S.C. §§1781(a)(2)-(b)(2)
          The undersigned counsel for Plaintiffs has acquired possession of a color copy of one certain document (attached as Exhibit A to this motion), regarding which there are no ready means of authentication except by recovery of the original document.  As should be apparent from the nature and content of the document, if authenticated, and shown to be genuine, the contents of this document will significantly narrow and shorten the discovery and pre-trial litigation period necessary in this case, and might lead to an early resolution by settlement or transfer of these proceedings to the United States House of Representatives and Senate according the procedures outlined in the Constitution.
     It is also apparent (and hearsay evidence available to Plaintiffs' counsel aggravates her concerns) that political pressure may be brought to bear to destroy all relevant evidence, whether such evidence exists within or outside the borders of the United States of America.
          It would appear to the undersigned counsel that either 28 U.S.C. §1781(a)(2) or 28 U.S.C. §1782(b)(2) or some combination of these statutory authorizations outlines the procedures by which to transmit letters rogatory and other requests to the proper authorities abroad in Kenya and the United Kingdom of Great Britain and Ireland.
     For two classes of evidence at issue here, namely all requests for relevant passport materials and other documents existing within the United States of America, as well as all requests to be made through diplomatic channels to foreign tribunals, Defendant HILLARY RODHAM CLINTON is the Secretary of State of the United States of America, and accordingly, Secretary Clinton is the first and primary proper target of letters rogatory to be submitted pursuant to 28 U.S.C. §1781(a)(2).
          FIRST, Plaintiffs pray that this court authorize Plaintiffs to issue a special subpoena for deposition duces tecum to Secretary HILLARY RODHAM CLINTON be cited to appear within 21 days pursuant to (or in the letter and spirit of) Rule 27 of the Federal Rules of Civil Procedure (even though this action has been filed and served, many months will pass before the Rule 26(f) Conference can be held to plan for discovery among the parties).  The purpose of Rule 27, even though designed for pre-filing discovery, is fulfilled and relevant here, in that some (above-noted) hearsay evidence exists that an individual involved in the examination of passport files at the United States Department of State relating to and involving certain 2008 Presidential candidates may have been killed in relation  to such inquiry. Last year it was announced by former secretary of State Candoleeza Rice that there was tampering with the passport records of three major presidential candidates and it was investigated by the inspector general.  Lt. Querl Harris was one of the suspects in passport tampering scandal. Washington post has announced that he was cooperating with the FBI and shortly thereafter he was found dead, shot in the head, sitting in his parked car.   This case remains open and unresolved. Under such circumstances, "perpetuation of evidence" becomes a more and more significant and time-sensitive issue.
          SECOND, Plaintiffs pray that this court will send a request for letters rogatory pursuant to 28 U.S.C.§1781(a)(2) to Defendant HILLARY RODHAM CLINTON and other relevant officers in the United States Department of State to issue and transmit letters rogatory through proper diplomatic channels to the following foreign offices of public record and vital statistics:
          For the Republic of Kenya:
KENYA
The Principal Civil Registrar
Dept of Civil Registration
Office of the President
PO Box 49179
Nairobi
Kenya
Tel: 227461
And/or
Office of the Principal Registrar
Deputy Registrar
Births, Deaths, and Marriages for the
Coast Province of Kenya
(or its modern successor, equivalent jurisdiction) in and for
MOMBASA, KENYA
(formerly British East Africa)
and/or
Kenya High Commission
45 Portland Place
London W1B 1AS
Tel No. 020 7636 2371
E-maiL: info.uk@kenyahighcommission.net info.uk@kenyahighcommission.net
http://www.kenyahighcommission.net/
searchcertappforms.html
And/or
General Register Office
http://www.gro.gov.uk/gro/content/certificates/contact_us.asp
Certificate Services Section
http://www.direct.gov.uk/en/TravelAndTransport/Passports/
WhoiseligibleforaBritishpassport/DG_174145
General Register Office
PO Box 2
SOUTHPORT
PR8 2JD
Tel: +44 (0) 845 603 7788 (8am to 8pm Monday to Friday. Saturday 9am to 4pm).
THIRD and in the alternative, Plaintiffs pray that this court issue and transmit letters rogatory and requests directly to each of the above-and-foregoing listed foreign offices or agencies (or to the relevant tribunals with appropriate jurisdiction in the relevant countries) without the intervention or assistance of Defendant HILLARY RODHAM CLINTON and/or other officers of the Department of State and/or the Department of Justice of the United States of America.
It is urgent that this request be prosecuted prior to the normal onset of discovery in this case, again, according to the general letter and spirit of Rule 27 of the Federal Rules of Civil Procedure regarding the perpetuation of testimony.  There has never been a constitutional challenge to the identity and eligibility of a sitting President of the United States and so there are no direct precedents regarding this matter, but it is fairly safe to say that the potential consequences and fallout from this present filing being made public will be severe and significant, even though the undersigned counsel makes absolutely no pre-judgment or prediction regarding the actual authenticity of the document of which only a color copy taken by a camera at an odd angle, which is attached herein as Exhibit A.
PRAYER FOR RELIEF
For all of the above-and-foregoing reasons, Plaintiffs pray that this court will grant leave to the Plaintiffs to conduct the aforementioned special discovery immediately and prior to the normal Rule 26(f) Conference, pursuant to Rule 27 and all or some subset of the procedures authorized in 28 U.S.C. §§1781(a)(2)-1781(b)(2).  Although the urgency of this request cannot be overstated, 21 days is the normal time for service of such a request as this under Rule 27 of the Federal Rules, and the undersigned counsel reminds the Court that she will be out of the United States from August 2, 2009, to August 24, 2009.
                                                  Respectfully submitted,
Saturday, August 1, 2009
Lughnasadh/LaLunasa
                                                            By:________________________________
                                                            Dr. Orly Taitz, Esq. (SBN 223433)
                                                            Attorney for the Plaintiffs
                                                            26302 La Paz, Suite 211
                                                            Mission Viejo, California 92691
                                                            Telephone (949) 683-5411
                                                            E-Mail: dr_taitz@yahoo.com
PROOF OF SERVICE
          I the undersigned Charles Edward Lincoln, being over the age of 18 and not a party to this case, so hereby declare under penalty of perjury that on this Saturday August 1, 2009, I provided facsimile copies of the Plaintiffs' above-and-foregoing
SPECIAL MOTION FOR LEAVE TO CONDUCT PRE-RULE 26(f) DISCOVERY
TO DEFENDANT HILLARY RODHAM CLINTON and
CERTAIN NON-PARTY WITNESSES
TO PERPETUATE TESTIMONY, PRESERVE EVIDENCE, and TRANSMIT
 LETTERS ROGATORY PURSUANT to 28 U.S.C. §§1781(a)(2)-(b)(2)
to all of the following non-party attorneys whose names were affixed to the "STATEMENT OF INTEREST" who have appeared in this case in accordance with the local rules of the Central District of California, to wit:
THOMAS P. O'BRIEN
LEON W. WEIDMAN
ROGER E. WEST
DAVID A. DeJUTE
FACSIMILE (213) 894-7819
          DONE AND EXECUTED ON THIS 1st day of August, 2009
Charles Edward Lincoln, III
charles.lincoln@rocketmail.com
Tel: (512) 923-1889
Exhibit A:
Unauthenticated Color Photocopy of
Certified Copy of
Registration of Birth from the
Coast Province of Kenya
District of Mombasa
District Registry Office
Office of the Principal Registrar
Republic of Kenya, issued on the
17th day of February, 19
Comments