Posted on | September 15, 2009 | 12 Comments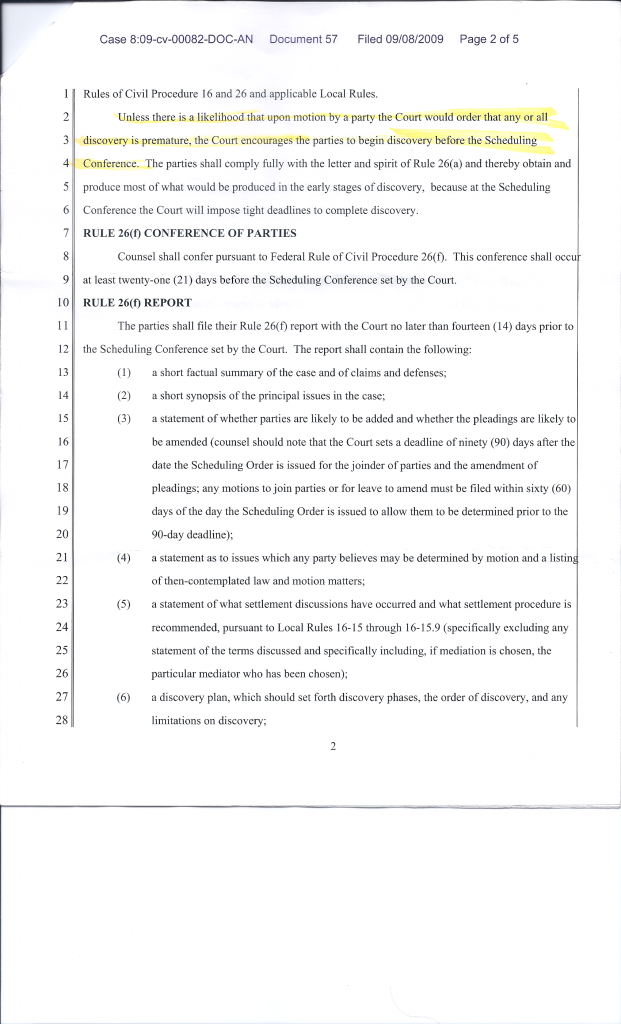 I was very busy flying red eye 5 times in so many days: twice to GA, once to DC and back and didn't have time to respond to all the slander and defamation on the Internet.
Arlene Williams, who has a web site InvestigatingObama.blogspot.com and Phil from TheRightSideofLife were defaming me, claiming that I lied about Judge Carter's order. Please, look at the order page 2 line 3. It states"… Court encourages the parties to begin discovery before the scheduling conference" (scheduling conference is on October  the 5th).
why is judge Carter saying that- because I have to give Obama 30 days +3 days for mail and there is no reason to wait. On Sunday I submitted to the department of Justice  electronically a proposed schedule of discovery.  33 days fall on October 17, I proposed deposition for October 19th Monday and left 4 weeks open, when I am available every day :weekdays and weekends, I will come to DC if need to be, to accommodate Obama and other defendants and witnesses.
In response US attorneys representing the defendants have filed a motion to stay the discovery, meaning to stop it. The fact that they filed it, doesn't mean anything. It doesn't mean thet judge Carter will grant it, that he will say yes. As a matter of fact  time and again in court, on the record judge Carter stated that he believes that this case needs to be heard in open court on the merits, that it should not be dismissed on technicality, that there is jurisdiction. So, they can ask to behead me, too and I am sure Obama and his sidekick Eric Holder will love it, but it doesn't necessarily mean that judge Carter is going to say: Yes guys, go for it.
Now, going to saboteurs, wolfs in sheep's clothe, Obots dressed as patriots. You have those sites of investigating Obama by Arlene Williams, therightsideoflife by Phil, people having their little internet blogtalkradio shows and going by names    Chalice, Hannen, Evelyn Adams, and a few others. They present themselves as patriots, concentrate movement around themselves, but when there is one real threat to Obama regime, they slander and defame a person who does the real work. After a year of this struggle I am the only attorney with clients who have real standing, I am the only attorney who was able to reach actual court hearings. Until now all the cases were immediately summarily dismissed, so now all these pseudo patriots are attacking one person who is doing the real work and who has the real chance of removing Obama from Office and do it now.
Now look at the attorneys. Berg had two cases  dismissed: one that he filed on his own behalf as a voter a year ago and one, filed on behalf of a 70 year old retired officer, where Berg  was a middle man between attorney Lawrence Joyce, who has written the complaint and DC attorney John Heminway, who filed the case in DC. As with the first case, the second case was dismissed mostly for lack of standing, as the plaintiff could not demonstrate specific injury, he could not demonstrate that at age 70 he will be called for active duty under Obama. That is why I filed cases on behalf of Major Stefan Cook and Captain Connie Rhodes MD and others and more to come, where they were actually called to active duty in Afghanistan and Iraq and can show real injury.
What did Berg     do this year since January? He did nothing against Obama, he spent this whole year attacking me. Look at his web site. It is full of despicable slander and baseless garbage allegations against me. He filed a multimillion dollar garbage law suit against me and instead of concentrating on Obama I have to waste my time on Berg. Recently I saw that he filled out a page of supposedly a subpoena to the consulate of Kenya. It is just a joke.  Why?
1. Consul of Kenya has diplomatic immunity and he will simply throw it in the garbage
2. Berg's law suit  was in Pa and it has nothing to do with Los Angeles and Central district of CA
3. Berg's suit was dismissed nearly a year ago, he doesn't have any active law suit and can't do any discovery
4. when one appeals a law suit, that was dismissed and closed, the court of Appeals need to see if the judge made a correct decision based on the information available then. They will not entertain any new evidence, any new documents, even if the consul of Kenya were to provide anything.
So, what did Berg do- just another stunt, more busy work,  another illusion of activity, while doing nothing productive and simply wasting my time. By the way, the judge in PA was ready to dismiss Berg's law suit against me and ordered Berg to show cause, why his law suit should not be dismissed due to lack of jurisdiction. The very last moment Berg filed 403 pages of more nonsense. Why? So that I will be busy with his garbage and wouldn't have time to deal with Obama.
Last point -Gary Kreep . It is very similar to Berg. Last year when I initiated Keyes v Bowen (secretary of state of CA), Drake and Robinson have recommended that I work with Kreep.  Originally I thought it was a good idea, but soon I could see that he only   creates an illusion of fighting Obama, but he is not really doing it. When we were supposed to file our case, he went to Vegas for a week and then to DC for the weekend. When we were supposed to be in court, he went to HI for 12 days and showed up 1 day before the electoral college meeting, scheduled the hearing for March, when it was too late to do anything against the Secretary of State  and when Superior Court judge Keeney has dismissed it as moot.
I encouraged Alan Keyes, Wiley Drake and Markham Robinson to file an emergency stay in the Supreme Court of CA (2 levels higher), I encouraged them not to waste time, suing 55 democratic party electors, as it was taking a long time to serve them and it was not necessary, I encouraged to utilize Vatel definition of Natural Born Citizen, which was the most beneficial for the plaintiffs. In response Kreep has written to them, encouraging them to fire me. Alan Keyes refused to fire me, but I saw that the case was stuck in the lowest possible court and is going nowhere, so  I gathered a new group of plaintiffs and filed a new law suit Lightfoot v Bowen (on behalf of Gail Lightfoot, vice presidential candidate for Ron Paul on the ballot in CA). I filed  for a stay in the Supreme Court of CA and from there I went to the Supreme Court of the United States and Chief Justice of the Supreme Court John Roberts agreed to hear the case in the conference of all 9 justices on January 23. Unfortunately on January 21, one day after inauguration someone has erased the case from the docket of the Supreme Court. Hundreds of people complained, it was reentered on the 22nd. I demanded investigation and I am still waiting for the results of that investigation as to who erased my case from the docket of the Supreme Court.
Regardless, you can see as my case was in the highest court of the land, the first case, were Kreep was involved, was stuck in the lowest possible court, going nowhere.
From November Kreep has sent numerous solicitations, under the name US Justice foundation (the whole foundation is one person-Kreep) He was saying:give me 5,00, give me 2,000 give me what you have,I'll fight for you. I'll file law suits every time Obama  signs a law or an executive order. In reality he filed nothing. Absolutely nothing. I was the only one who was filing law suits and getting results.  Now, when there is a possibility of actual judgment, Drake and Robinson make a new deal with Kreep. They will try to create an illusion of doing something productive, but I have been there, done that. I know where it ends. Fool me once shame on you, fool me twice, shame on me.
Comments