Posted on | October 10, 2018 | 2 Comments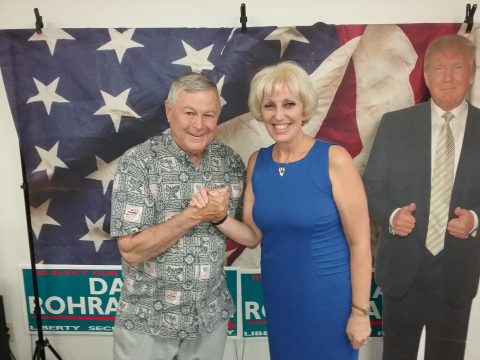 Volunteer for Dana at his headquarters at 30012 Crown Valley, suite k in Laguna Niguel.  call 949-702-5460. District walk for Dana on Saturday October 13 9-5. Oliver North event after the district walk.
Come Party With Us
October 20th in Laguna Niguel
---
MAGA Party with Congressman Dana Rohrabacher and California Candidates
Join Congressman Dana Rohrabacher, Judge Steven Bailey and numerous additional California Republican candidates on October 20th, in Laguna Niguel for an EXCITING MAGA PARTY to get out the VOTE!  Come show them your support. CALIFORNIA NEEDS YOUR VOICE!
Enjoy a fun-filled evening of candidate appearances, mingling, MAGA raffle and other Covfefe surprises!
The evening will open with an ultra-high energy speech from Pastor Mark Burns who toured with President Trump during the 2016 campaign. As with last year, dinner and drinks are included in your ticket price. Our creative mixologist Mikey and his staff are back by popular demand with a host of new alcoholic and non-alcoholic (Trump Style) concoctions. Doors open at 5pm and the party will conclude at 11pm.
Confirmed candidates in attendance:
Congressman Dana Rohrabacher – Congressional District 48
Judge Steven Bailey – Attorney General
Mark Meuser – Secretary of State
Senator Patricia Bates – State Senate District 36
Aja Smith – Congressional District 41
Roxanne Beckford Hoge – State Assembly District 46
Sandy Rains – Laguna Niguel City Council
Check our website for additional attendees to be added
CD 48 ALERT:
Nancy Pelosi is sending in her shock troops by the busload:
Financed by the Liberal left establishment, outsiders are pouring into our district to overwhelm Orange County's traditional patriotic politics.  George Soros and other billionaires are bankrolling this assault on our way of life here in coastal Orange County.
Every OC patriot needs to stand up and thwart this heavily funded attack by radical outsiders.  We have to save America, starting right here in coastal Orange County. It's up to US.
Comments