Posted on | January 11, 2013 | 29 Comments
MS Petition for a Writ of Mandamus to expedite in the fifth circuit Court of appeals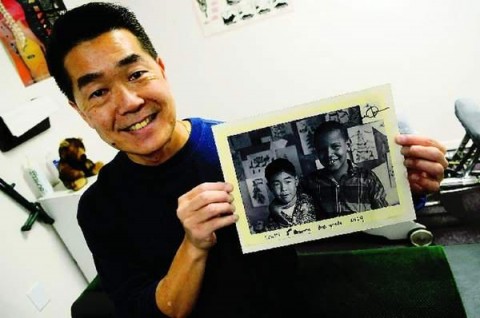 Obama Indonesian school registration from AP
Press Release
Law Offices of Orly Taitz
Fifth circuit Court of appeals to hear a petition for a Writ of mandamus to expedite Default Judgment and post judgment discovery.
This petition to expedite the Default judgment against the Commissioner of Social Security MichaelAastrue comes from the case filed in the US District Court in MS Taitz et al v Democratic Party et al, 12-cv-0280 Judge Wingate. This is a Racketeering case, whereby the complaint states that Obama, "Obama for America" (financing organization for Obama campaign), Pelosi, Registrar of the Health Department in the State of Hawaii Alvin Onaka and Commissioner of Social Security Michael Astrue engaged in a racketeering scheme to defraud the nation and put in office citizen of Indonesia Barack Obama, aka Barack (Barry ) Soetoro, aka Barack (Barry) Ssoebarkah in the position of the U.S. President and Commander in Chief by virtue of fraud and use of forged IDFs and a stolen Connecticut Social Security number 042-68-44-25. According to databases and E-Verify and SSNVS Obama is using a Social Security number, which was never assigned to him. Research showed this number to be assigned to a resident of Connecticut, born in 1890. Due to SSA changes a lot of elderly individuals applied for a Social Security number late in life. This individual applied in and around March 28 1977. Barack Obama fraudulently assumed this number in and around 1980. This is not something out of the ordinary. Thousands of illegal aliens do the same thing when they assume Social Security numbers of deceased individuals, whose death was not reported to the Death index of Social Security administration and the number remains active after death.   Additionally, investigation by a licensed investigator Susan Daniels and former Scotland Yard officer of the elite anti organized crime and anti communist proliferation unit  Neil Sankey showed that Obama used other Social Security numbers, which were either bogus, never issued numbers, or numbers of deceased individuals. Noteworthy is his use of the Social Security number of Lucille ballantyne, deceased mother of the Actuary of Social Security Administration Harry Ballantyne, whose activity warrants investigation. Aside from the number 042-68-4425 used by Obama as late as 2009 in his tax returns, several other numbers issued after this number warrant investigation.
While other defendants in this case filed an answer, Commissioner  of Social Security Michael Astrue never filed an answer. Plaintiff Orly Taitz is asking the Fifth Circuit to expedite Default judgment against Astrue, as this is a matter of National Security. We have a criminal, a foreign national with a stolen Social Security number, about to be sworn in for 4 more years. Taitz requests to expedite the judgment before the swearing in.
Additionally, report and picture by Scott Inoue shows Barack Obama as a third grade student in Hawaii in 1969. At the same time official Obama school records show him in Indonesia in 1967-1969 attending school in Jakarta Indonesia under the name Barry Soetoro. Recorded interview and recollection of Lia Soetoro Sabah, foster daughter of Ann Dunham and her second husband, Obama's step father Lolo Soetoro confirms the recollection by Scott Inoue. (Liah Soetoro Sabah died suddenly at the age of 52 before Obama's scheduled visit to Indonesia) Based on this discrepancy there are two distinct individuals: Barry Obama, who resided in the U.S. between 1967-1969 and Barry Soetoro who resided in Indonesia between 1967 -1969. We do not know which one of them came back from Indonesia in 1971: Barry Obama or Barry Soetoro. If Barry Soetoro came back, than the question is, what happened to Barry Obama? Is he even alive? A number of high ranking officials of the U.S. Government and the government of Hawaii are complicit in the most egregious crimes, possibly conspiracy to commit treason and aiding and abetting espionage.
more information on this and related cases on OrlyTaitzESQ.com
e-mail attorney Taitz at orly.taitzesq.com
In case of emergency only call 949-683-5411
MS Petition for a Writ of Mandamus to expedite in the fifth circuit Court of appeals
General Docket United States Court of Appeals for the 5th Circuit
Court of Appeals Docket #: 13-60024
Docketed: 01/10/2013
In re: Orly Taitz
Appeal From:  Southern District of Mississippi, Jackson
Fee Status:  fee paid
Case Type Information:
     1) Original Proceedings
     2) NP Mandamus
     3)
Originating Court Information:
     District: 0538-3 : 3:12-CV-280
     Originating Judge: Henry T. Wingate, Chief Judge     Date Rec'd COA:     01/10/2013
| | | |
| --- | --- | --- |
| 01/10/2013 | | ORIGINAL PROCEEDING CASE docketed. [13-60024] (MRW) |
| 01/10/2013 | | PETITION filed by Petitioner Dr. Orly Taitz  for writ of mandamus [7268373-2] Date received in 5th Circuit: 01/10/2013. Fee due on 02/11/2013 for Petitioner Orly Taitz. Date of Service: 01/09/2013 [13-60024] (MRW) |
| 01/10/2013 | | FEE PAID by Petitioner Dr. Orly Taitz. Fee deadline satisfied [13-60024] (MRW) |
Comments