Posted on | May 18, 2014 | 51 Comments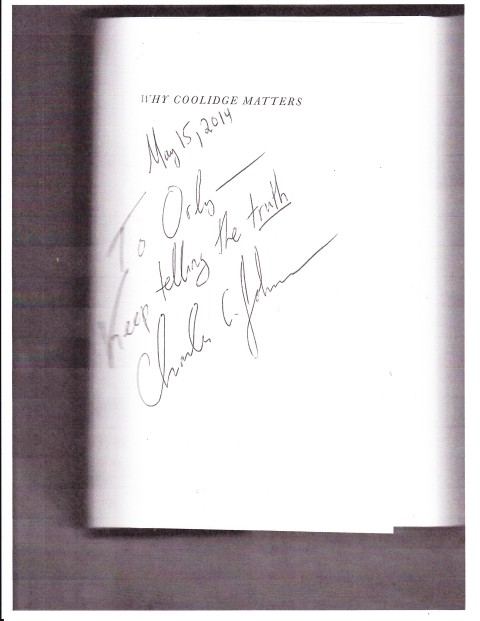 Attorney Orly Taitz was a speaker at an event with writer Charles Johnson. Johnson is an author of  "Why Coolidge Matters".   Johnson was awarded virtually every prize a conservative journalist can receive: Robert Bartley fellowship from Wall street journal, Eric Breindel award, Robert Novak award, and Publius fellowship at the Claremont institute. The event was organized by conservative women at Riviera country club in Pacific Palisades, CA.
After the presentation Johnson answered questions from the public
Johnson revealed that early on Andrew Breitbart hired him to disprove birther claims, to show that birthers are lying and Obama is eligible for presidency.  Johnson, an accomplished  investigative journalist, engaged in extensive research and found that Taitz and others are correct, that birther claims are true, that  Obama is indeed a fraud and using all bogus IDs. Johnson went back to Breitbart and other editors of Breitbart.com advising them that birther claims are 100% correct and they should write about it. Breitbart.com   editors refused to write about it as they were afraid of persecutions by the IRS and other government agencies.
So, Johnson confirmed at a public meeting that Breitbart.com, which fashions itself  as a political dissident publication, was as complicit in the cover up of the biggest fraud in the US history, as the other main stream media publications, high ranking officials and a number of  judges.
Johnson wrote to Taitz in one of his books: "To Orly. Keep telling the truth. Charles C Johnson"
Comments