Posted on | March 17, 2013 | 18 Comments
Barack Obama SSNVS verification
Obama e-verify and tax returns
As always teasonous and criminally complicit members of the media, such as Alex Seits-Walt from Salon.com, manipulate and bend the truth out of shape in order to aid and abet Obama.
During the CPAC convention nobody was allowed to talk about the atrocities inflicted upon Christians and Jews by Muslims and creeping influence of Islam on the life in the U.S.
People's best blogger award at CPAC was given to anti Jihad web site, however the gentleman who runs the site was not given an opportunity to speak at CPAC. He attributed this to the fact that Grover Norquist, one of the main organizers of CPAC, became highly influenced by his Muslim associate Sukhi Khan.
Anti Jihad activists at CPAC revolted, so they were given an opportunity to vent their anger at corruption of CPAC by having an impromptu "uninvited" question and answer session in an adjacent, smaller auditorium. This was organized by  Breitbart.com
At this session they were saying that the leadership of CPAC, as well as many other organizations  are corrupt, dirty, that today the truth is called the hate speech by the dirty establishment. People who speak up about the atrocities by Muslims are called homophobic and racists. They stated that Barack Obama is indeed supporting the states and organizations run by jihadists, he is gutting the U.S. military and he is an enormous threat to the US National security. When they announced the question and answer session, I raised my hand and was given an opportunity to speak.
I stated that they called themselves "uninvited panel", as they were not invited to speak at the main auditorium, but were given this impromptu forum to vent. I told them that the biggest "uninvited" issue is the one that will resolve all other issues. I told them them that they were talking about the need for e-verify to identify the Muslim terrorists and Jihadists, but they are not talking about the most important person, who failed E-verify. I stated that Obama posted his tax returns on line, did not flatten the PDF file, the full social Security number he is using became available to the public and when checked through the E-verify and SSNVS, it failed. At that point the moderator, one of the puppets running Breitbart.com stated that I cannot talk any further about Obama, I need to ask the question. I asked, why aren't they speaking about Obama's use of forged and stolen IDs, why breitbart.com did not write about this most important issue for 4 years. He said the he will talk for Andrew Breitbart, however I told him that he cannot talk for Andrew, he cannot talk for someone who is dead, I told him to talk for himself.
It is a known fact, when a person is not sure of himself, or lying or embarrassed about something, he would try to hide behind a group, so this moderator did just that. Instead of speaking for himself, he said, "we, the editorial board of Breitbard decided that we are not birthers". I told him that by responding like this he showed that he has no integrity. He complained that he and panelists were maligned for speaking up the truth, were called homophobics for speaking the truth abut Islam, but they are doing just that themselves, they refuse to look at the evidence of Obama using forged and stolen IDs, they are labeling people who speak the truth about it, as "birthers", they are muzzling the truth.
All of the panelists, among them Frank Gaffrey and Pamela Geller looked extremely embarrassed, they were called to task, so the only thing Pamela could sa, is  that they can do only that much, I responded that this is the most important issue, they have to talk about it. When they talk about the need to run the E-verify to ID the terrorists, they cannot skip the fact that Obama himself failed E-Verify.
The moderator from Breitbart said that we can talk about it after the session, which was already ending. It was 3pm and the session was from 1-3pm, however I had to run to grab a taxi as I had to go to the airport to catch my flight back to CA, I was already late as it takes an hour to get from the convention center to Dulles airport.
Incidentally, a few days before Andrew Breitbart passed away I talked at the CA GOP convention with Reince Preibus, he told me that I should talk to Breitbart about my evidence. He said he will contact Breitbart and arrange a meeting. Less than 24 hours before Breitbart's death I e-mailed Rence Preibus and asked if he already talked to Breitbart. I believe, I still have the printout of the e-mail. Next morning I saw an announcement that Breitbart was dead. I was told that at the same time Breitbart talked to Corsi. I believe that Breitbart was getting ready to talk about Obama's forged IDs and bogus SSN. His sudden heart attack was very timely for those who wished him to be silent. Shortly after Breitbard died, the editorial board of his publication under the new management no longer showed any interest in pursuing the truth on this issue.
Apropo to Breitbart's heart attack, today, only a few days before Obama's visit to Israel, it was announced of a sudden death from a heart attack of a long time member of the Israeli Parliament Marina Solodkina. She was a PhD in Economics and an outspoken critic of militarization and resurgence of Nazism. Yesterday she gave a speech in Vilnus, Lithuania, part of the former Soviet Union. She was found dead in her hotel room shortly after the speech. Incidentally, Obama's stepmother, third wife of Obama senior, Ruth Nidesand (Ndsanjo), mother of his stepbrothers Mark and David, came from the communist Vilnus, Lithuania.
Apropo #2,  one of the assistants of the coroner who wrote a report on Breitbart's heart attack was found dead from arsenic poisoning.
At CPAC I gave some 15 interviews, among them to Media Matters, New York Times magazine, National Review, Heritage.org. All of the reporters  were given info on Obama's use of forged and stolen IDs. I begged all of them to post the E-verify and SSNVS reports on line and in paper versions of their publications and let the public decide whether this needs to be criminally prosecuted.
So far none of them posted any of the documents and affidavits online or in their publications.
One of Obama's criminal accomplices in the media, Alex Seitz-Walt, cut out of the video of the conference  everything I said about Obama's bogus SSN, which failed E-Verify and posted an edited, manipulated video on line, which was re-posted in all of the outlets, which are complicit with Obama. the video hides the most important part of the statement made by me and presents it as an disagreement between me and Pamela Geller from Atlasshruged. the most important issue was Obama's use of forged and stolen IDs. The disagreement between me and Pamela and other members of the panel  is less important and can and will be resolved.
People like Pamela Geller and some on the Breitbart board used to believe that if they do not speak about Obama's forged and stolen IDs, they will be spared and will be allowed to stay as the members of the main stream media. Now they are realising that they, too, are being sidelined and silenced for speaking up about the Jihad. Churchill realised that appeasement of criminals does not work. When Churchill reversed Chamberlain's policy of appeasement, Britain became victorious.
Similarly, GOP, CPAC, Geller, Breitbart, Frank Gaffney and others need to understand that appeasing criminals of Obama Junta will not work. Just as in NAZI Germany, when ones looked the other way when NAZIs started infringement of the rights of Jews, that did not help, as NAZIs became emboldened and went on to infringe on the rights of Christian believers, dissidents, Slavs, gays, so on and so forth.
You do not win by being weak and appeasing criminals. You win by being strong, staying together and bringing forward the evidence of the most egregious crimes. Nearly 50,000 people signed my petition to Congress to investigate Obama's forged and stolen IDs. I talked to Zullo and Carl Gallups at the CPAC and we all believe that there will be movement by the members of Congress in the near future. I hope that Arpaio will bring a criminal complaint in the near future. ObamaNazis are trying to divide and concur. They are trying to divide the opposition. Now is the time to unite. I am asking 50, 000 people who signed my petition to Congress, to call, e-mail, write and fax Pamela Geller, who owns a blog Atlasshrugs, as well as each and every editor from Breitbart.com, Frank Gaffney from National review, Grover Norquist, director of CPAC Cardenas. Demand they talk about the single action that will bring Obama to Justice and will resolve numerous problems associated with Obama, talk about Obama's SSN which failed E-verify. They cannot talk about the need to E-Verify to identify the jihadists and not talk about the fact that Obama failed E-Verify and is using all forged IDs.
Please, write to all of the media outlets, who published an edited video by Alex Seitz-Walt and demand that they post the E-verify and SSNVS reports, showing Obama using a bogus Social Security number. Let them know that cover up of the fact that a person sitting in the White House is using forged and stolen IDs, represents high treason, and sooner or later they will be in prison for High Treason for this cover up.
Also, I am posting  the business cards of the reporters that I talked to at CPAC,among them are Ari Rabin-Huff from Media Matters, David  Amira from New York magazine,  Elizabeth Flock from the U.S. News and World Report, Lauren Windsor from Undercurrent TYT TV, syndicated talk show host Rusty Humphries, radio and TV host Rick Damato. Demand they post the documents on line, demand they speak up on the issue. Many of these reporters are on the right and talked about it, however we have to push and demand that the reporters on the left post the documents as well.
We need to see these E-verify and SSNVS reports, as well as evidence of forgery in Obama's SSS and BC on the front page of every paper and we need to demand that Judges, law enforcement and Congress act upon them immediately.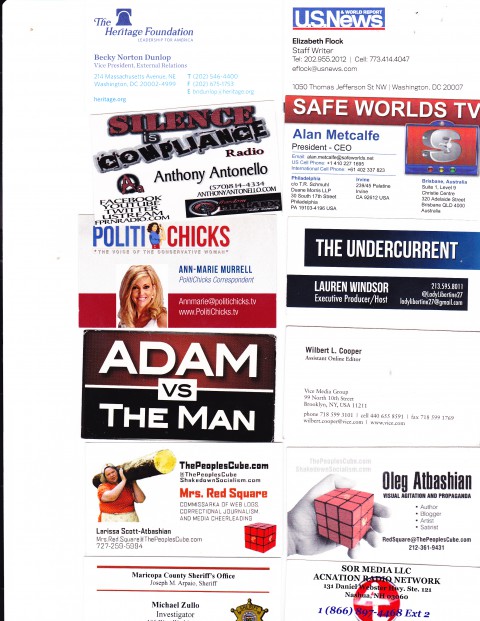 Comments