Posted on | April 28, 2017 | 14 Comments
House Republicans AGAIN Delay Obamacare Repeal Vote…
Posted on | April 27, 2017 | 1 Comment
Posted on | April 27, 2017 | 4 Comments
Please, call senate switchboard (202) 224-3121
state that you need to talk to a senator, press 1
when asked for the state, tell Kentucky
press 1 for McConnell
talk to the staff member urge to put to a vote "nuclear option" change of rules to pass all Trump's initiatives with simple 51 vote majority
Posted on | April 27, 2017 | 13 Comments
White House capitulated to the Democrats and there will be no border wall funding in the funding resolution which will be signed tomorrow. President Trump is saying that the funding will come in September, during the negotiations for 2018 budget. The WH needs to explain to the nation and, particularly, Trump supporters, what will be different in September. We will still have only 52 Republicans in the Senate, short of current 60 requirement to overcome the filibuster. Dems will filibuster the budget. So, the only reasonable way to get the funding and do it quickly, is by changing the senate filibuster rules to simple majority of 51 votes. In case of a tie, the Vice President will brake the tie. This was done for all votes for confirmations of all government officials and for all federal judges. Recently, this change of rules was implemented for the Supreme Court with Gorsuch confirmation. This has to be done for all other bills.
The public is urged to keep calling President Trump, the Senate Majority leader, Mitch McConnell, and every GOP senator and demand they vote to change the filibuster rule from 60 to 51 and quickly pass the border wall funding bill. Recently, Rhonna Romney -McDaniels, GOP chair, stated that the GOP voters will walk away in midterm elections if the wall is not built. I fully agree with her.
Posted on | April 27, 2017 | 2 Comments
Yesterday the White House unveiled it's new tax plan. It provides a huge tax relief for corporations, corporate tax goes down from 35 to 15%, however tax consequences for individuals are not that clear.
White House stated that there will be 3 instead of 7 tax brackets and that the individuals will lose most of their deductions.
We need the actual numbers, what specific incomes will be in specific  brackets. I don't know whether my income will be taxed under a lower bracket or the same bracket. Moreover, deductions are very important, particularly, for people who live in states like CA and NY where state taxes are  high. In CA the state tax is 13% Additionally, citizens all over the country are paying property taxes. Those were deducted from our federal incomes. Moreover, there are other important deductions, such as health-care, meals, depreciation  of cars and properties. White House needs to provide us with more details. If tax rate reduction is less than the loss of  the write-off on deductions, then this tax bill needs to be re-worked.
Furthermore, I question, how much corporate tax reduction will add to the national debt and how much will the American workers actually benefit from it. For example, a US corporation makes a million dollars. Currently it would pay $350,000 in federal income taxes. Under the new bill it would pay $150,000. So, the treasury would get $200,000 less. Further, what is to prevent this corporation from investing this $200,000 in a factory in China, where labor is dead cheap, where people are getting a $1 an hour or 50 cents an hour? There is nothing in the bill that would require these corporations to reinvest this money in the US. So, the treasury would lose money and American workers will not benefit. It is true that some corporations might relocate to the US, however, they might relocate the headquarters, but not the manufacturing and the end results will be minimal.
The public should demand more details from the White House and an evaluation from the CBO.
Posted on | April 26, 2017 | 13 Comments
| | | |
| --- | --- | --- |
| James Carter | In the case of Trump caving on the wall, lest there be any doubt whatsoever as to the liberal bias of the media and the self-centeredness of liberal politicians notice the complete absence of credit to Trump for avoiding a government shutdown. | |
Answer from Orly:
This is all a pile of garbage. GOP could pass the nuclear option change of rules in the senate and pass funding of the wall. They do nothing productive for months, wait till the last moment and then ask for credit for avoiding shutdown. This is an old song and dance. No credit is due to anyone for this chicanery and arrogant, obnoxious disregard of the will of the people.
Trump should have stood his ground and sought a change of rules in the senate and passing the border wall funding bill. If the wall is not built, taxes for middle class are not lowered and O-care is not repealed, we might need to replace all of our globalist "moderate" GOP members of congress and possibly seek more conservative president who would stand up to the likes of Paul Ryan and Mitch McConnell
Posted on | April 25, 2017 | 16 Comments
I am extremely disappointed and angry with the fact that none of Trump's major initiative are being implemented by Congress.
It is time for a change. Trump voters need to write to Trump and demand to go public, to speak up. Trump needs to demand that Mitch McConnell, Senate majority leader, and the rest of the GOP Senators vote to change the rules and stop filibuster of all the bills, just is it was stopped on all nominations of government officials and judges.Recently, we saw such change of rules in voting for judges  for the Supreme Court, that is how Gorsuch got confirmed.
Trump and GOP are squandering a rare opportunity to bring forward a meaningful change, while they have the White House and the majority in both houses of Congress. Time to act, move ahead with the rules change and  pass the "nuclear option," simple majority passing of all bills in the Senate.
Posted on | April 24, 2017 | 21 Comments
Posted on | April 20, 2017 | 10 Comments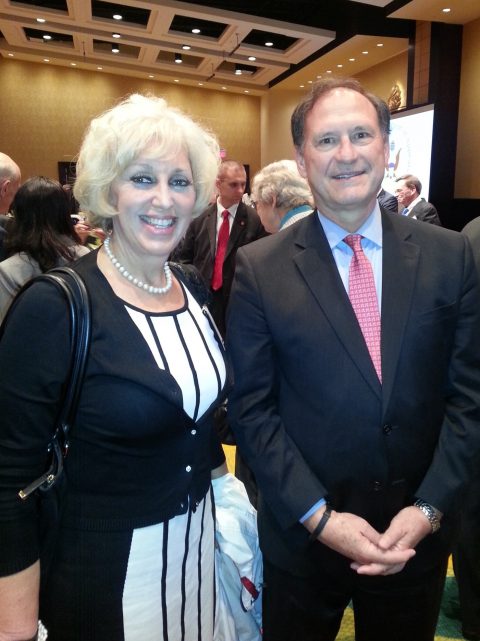 Posted on | February 26, 2017 | 65 Comments
Evidence  of forgery, fraud, fabrication in Obama's IDs
Posted on | April 29, 2017 | No Comments
Posted on | April 29, 2017 | No Comments
Posted on | April 29, 2017 | No Comments
Lorene B
Ivanka Trump needs to get out of the spotlight, engaging in talks with leaders of other countries. The people did not elect her to public office. Her views are different from Trump's and if she continues, it will hurt him.
Maybe someone could warn President Trump about this.
Posted on | April 29, 2017 | No Comments
Posted on | April 29, 2017 | No Comments
Posted on | April 29, 2017 | No Comments
Posted on | April 29, 2017 | 1 Comment
Posted on | April 29, 2017 | No Comments
| | | |
| --- | --- | --- |
| 12thGenerationAmerican | I have known Orly personally for quite a while, and it would be hard to find a more patriotic America-loving U.S. Citizen than her! | |
Posted on | April 29, 2017 | 3 Comments
Posted on | April 29, 2017 | No Comments
DELTA Pilot Hits Passenger During Fight at Atlanta Airport…
Posted on | April 29, 2017 | No Comments
Posted on | April 29, 2017 | No Comments
Posted on | April 29, 2017 | No Comments
Evidence About The 7 'Civilians' Obama Released Has Been Discovered
Posted on | April 29, 2017 | 1 Comment
Posted on | April 29, 2017 | 2 Comments
keep looking »