Posted on | March 18, 2012 | 11 Comments
Do all these Americans agree with Sheriff Joe on Obama?
A brand-new scientific poll is out on the results of Sheriff Joe Arpaio's probe into the authenticity of Barack Obama's birth certificate and the president's eligibility for office.

You'll be stunned at the percentage of Americans who agree with Sheriff Joe …
Please, read the latest Wntzell poll!
Nearly half of Americans agree with my work and findings in that Obama does not have valid papers!
please, help me finish the work with several legal actions in conservative states and my campaign to defeat Senator Feinstein. Her approval went down to only 40%. Our open primary is coming June 5. So far according to the most respected polling organization Rasmussen -Pulse I am the top scoring challenger to Feinstein. Washington Lobbyist Elizabeth Emken, who was endorsed by the GOP leadership is polling dead last with only 2% of the GOP vote and only 1% of the total vote. Please, help me beat the corrupt establishment in both GOP and in the general election. CA is a huge state with nearly 40 million people. I already spent over $6,000 for the ballot pamphlet ad, which will  enlighten voters about Obama's lack of a valid birth certificate and a valid Social Security number. ads were place in Washington Times and several websites. More needs to be done  It would be important for me to keep up the lead and be invited to debates with Feinstein.
Please, donate at my campaign website RunOrlyRun.com and OrlyTaitzforUSSenate.com Please by 2 of my DVDs: one of theHistoric trial in GA (it also contains a video of me addressing Arpaio and forwarding all the evidence to him and Arpaio's press conference) and the DVD of the historic testimony at the ballot law commission in New Hampshire. Each DVD is $22.50 and $2.50 for shipping and handling. DVDs are in a commemorative case with my autograph. Please write a check to Orly Taitz for US Senate or donate on my campaign web site.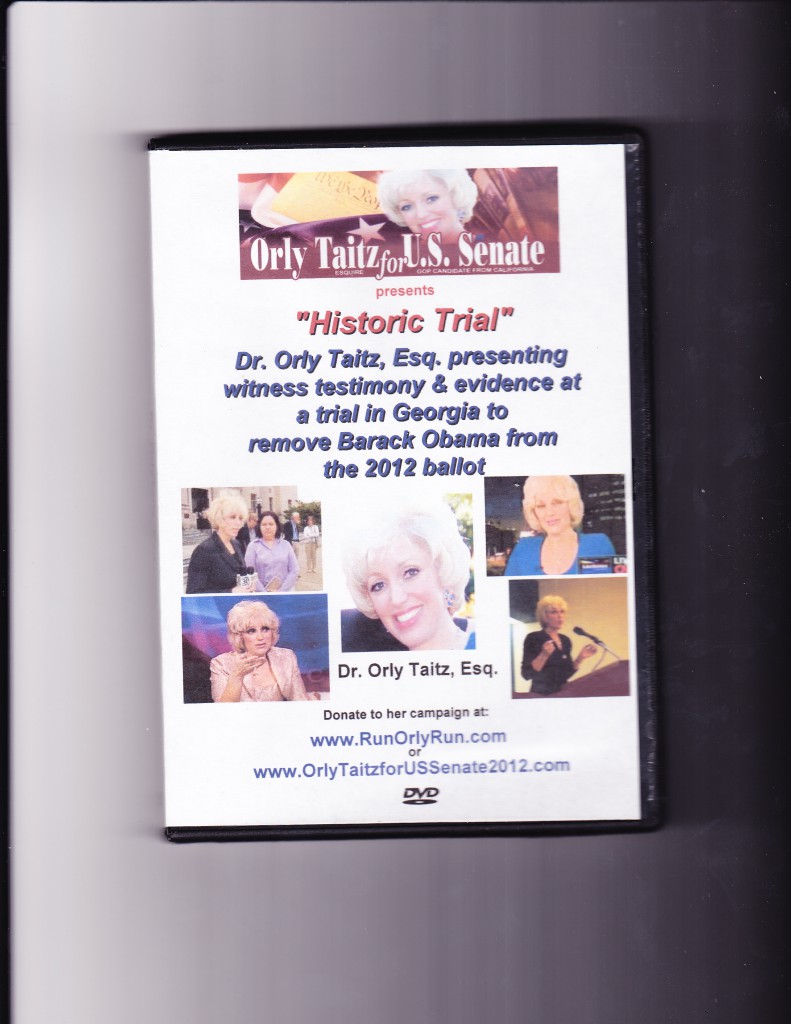 Category:
Help Needed
,
HOT ITEMS!
,
Important Contacts
,
Obama Fraud Gate
,
Orly Taitz civil rights leader
,
Orly Taitz doctor and attorney
,
Orly Taitz for U.S. Senate 2012
,
Orly Taitz Hawaii
,
Orly Taitz Obama birth certificate
,
Orly Taitz Obama social Security number
,
Orly Taitz ObamaFraudGate
,
Orly Taitz subpoena
,
Radio and Media Broadcasts
,
Supporting Documentation
Comments