Posted on | August 1, 2015 | 5 Comments
Posted on | August 1, 2015 | 5 Comments
I usually try to stay away from criticizing religious leaders, however enough is enough.
Yesterday FOX reported on an attack on Trump by Cardinal Dolan of New York. Dolan criticized "nativism" of Trump claiming it is anti-American.
However, there is nothing anti-American in Trump demanding to close our wide open border and end the free for all, which bankrupts this nation.
Anybody with any measure of brain matter understands that we cannot feed all the poor of Mexico and Central America. Americans are losing millions of jobs and wages are going down due to open border.
So, what is wrong with Cardinal Dolan and other leaders of Catholic church, why are they attacking Trump? The answer is simple. Today, less and less Americans are going to church and less are donating to church. Vast majority of illegals are Catholics and they are used to going to church. So catholic church is seeking new sources of income, illegals are such a source. As these illegals  are finding jobs, they donate to Catholic church and the church values these donations more than the well being of the nation. Shame on Cardinal Dolan and other church leaders for doing that.
In the past 20-30 years the leadership of Congress and residents of the WH were controlled and  were acting to benefit their donors, who make astronomical profit from cheap foreign labor. Our media is controlled. Trump is the only one who stands up to our ruling establishment. Sadly, Catholic church leaders joined our ruling establishment in attacking the only candidate, who can bring this nation back to life.

'Pundits, politicos determined to destroy candidacy they can't control'…
Posted on | July 31, 2015 | 7 Comments
Read Latest Breaking News from Newsmax.com http://www.newsmax.com/Newsfront/iowa-poll-trump-walker/2015/07/31/id/664826/#ixzz3hVUaMybl
Urgent: Rate Obama on His Job Performance. Vote Here Now!
Posted on | July 31, 2015 | 10 Comments
4 Democrats get behind Obama's Iran nuclear deal
Posted on | July 31, 2015 | 6 Comments
As parts of Boeing 777, believed to Malaysian flight NH 370, are located of Madagascar, US intelligence claimed that the flight was intentionally diverted by someone within the cockpit. As opposed to what? Being diverted by someone outside the cockpit or outside the plane?
By Dr. Orly Taitz, ESQ
This is a very strange coincidence. As the parts believed to be of a doomed Malaysian flight MH 370 are found on Reunion, a tiny French island near Madagascar, US intelligence releases a report that the flight path of MH 370 was intentionally changed by someone inside the cabin. The timing of this report is bizarre.  We knew right away that the plane made evazive procedures by someone switching off the transponder and ACAR system changing the flight path 3 times: first, changing from going East to making a 180 degree turn and going West, second -changing the flight to North-East direction and later changing it to fly South.
The question was, why?
We know that Captain Shah of this flight has practiced landing on Maldives and on the US air base on atoll of Diego Garcia. We also know that there were at least two   individuals on this plane who flew with stolen passports. One passport belonged to an Italian citizen, another belonged to an Austrian citizen. Individuals flying on stolen passports points to a possible high-jacking attempt. We know that the plane had extra fuel, which also points to a planned high jacking. Also, there are reports that one or two US citizens working in the area of sensitive US military technology, including stealth technology, were on board and for some inexplicable reason were flying to China, our military enemy.   Further, we know that some tickets were purchased with cash and individual, who purchased them for others, is known to be connected to Iranian intelligence.
So, a year ago we knew that the plane was intentionally diverted from its' path. the question is, why US intelligence is releasing a report with this conclusion now, 16 months after the crash.  Did the pilot work with others to try to fly to the US base of Diego Garcia? Was the flight redirected of this path? By whom, why? These questions need to be answered.
Distance from
US military base on Diego Garcia to Reunion is a 2 and a half hours flight for Boeing 777 flying at its' top speed of 590 miles per hour :
Posted on | July 30, 2015 | 16 Comments
Posted on | July 30, 2015 | 1 Comment
| | | |
| --- | --- | --- |
| New Hampshire Republican Presidential Primary | Monmouth | Trump 24, Bush 12, Walker 7, Rubio 6, Paul 5, Carson 5, Christie 4, Kasich 7, Cruz 3, Fiorina 3, Huckabee 2, Pataki 2, Perry 1, Jindal 2, Santorum 1 |
Donald Trump leads the GOP presidential field by a significant margin, according to a new Quinnipiac University national poll released Thursday. The poll also indicates that Ohio Gov. John Kasich could ride a post-announcement bump onto the stage for next week's debate in Cleveland, despite fears…
Trump was able to make great strides. He proved his critics wrong not only in announcing candidacy, revealing his financials, leading for the nomination, but also leading all GOP candidates among Hispanics.
McCain had only 19% of Hispanic votes, Romney 27%, Cruz, Rubio and Bush have around 30%. Trump has 33% .
So the last argument against Trump is that H. is doing better than him. In a hypothetical three way race he is doing as well as Bush: Bush-23%, Trump -23% and H-37%.  However, in a one on one H is still leading Trump and this is the main and probably the only argument pundits and GOP voters have against Trump. Now they know that he can win the nomination, but he needs to prove to them that he can beat H. If he does not demonstrate that he can beat her, his support will sour come actual primaries. Trump has to start an intensive campaign of highlighting to voters, why he is a better candidate than H.
Posted on | July 30, 2015 | 3 Comments
In the latest poll Trump has double the votes of Bush: 20/10.
additionally, his negatives are going down drastically. Prior to his announcement his negative was around 80%, now his negative is only 30%
Posted on | July 29, 2015 | 9 Comments
Ron DeSantis is a native Floridian of humble beginnings who knows the value of hard work.  Born in Jacksonville, FL, he grew up in Dunedin, FL and graduated from Dunedin High School.  His mother is a nurse and his father worked for the Nielsen television rating company back when it was necessary to install devices on TVs.
As a kid, Ron quickly fell in love with America's pastime. In 1991, the kids from Dunedin Little League made it all the way to the Little League World Series in Williamsport. In High School, Ron's Dunedin team made it all the way to the Florida state championships.
Ron put himself through Yale University by working odd jobs ranging from collecting trash to coaching baseball clinics. He received his bachelor of arts, magna cum laude with a major in history, from Yale, where he was a four year starter and the captain of the varsity baseball team. He received his juris doctor, cum laude, from Harvard Law School.
While studying at Harvard he earned a commission as a JAG officer in the United States Navy. During his naval service, he supported operations at the terrorist detention center in Guantanamo Bay, Cuba and deployed to Iraq during the 2007 troop surge as an advisor to a U.S. Navy SEAL commander in support of the SEAL mission in Iraq.
He has also served as a federal prosecutor and as a military prosecutor, prosecuting a wide range of cases involving offenses such as theft of sensitive military property, corruption, child abuse, child exploitation, and fraud.
His military decorations include the Bronze Star Medal (meritorious service), the Navy and Marine Corps Commendation Medal (gold star in lieu of second award), the Navy and Marine Corps Achievement Medal and the Iraq Campaign Medal.
DeSantis' service in the military and as a prosecutor has required him to take an oath to support and defend the Constitution, an oath he takes seriously. Ron ran for Congress because he saw the nation moving away from the enduring principles that the Constitution reflects and upon which the nation was founded.
Since assuming office as a U.S. Representative in January, 2013, Ron has earned plaudits for defending taxpayers, reforming Congress, supporting veterans, advocating a strong national defense, promoting economic opportunity, and holding the Obama administration, especially the IRS, accountable. He is a stalwart supporter of Israel and has been an outspoken critic of the Obama administration's coddling of the Castro dictatorship in Cuba. He is rated the #1 taxpayer hero in Florida by the watchdog group Citizens Against Government Waste.
He is currently a Lieutenant Commander in the reserve component of the United States Navy. He is a member of the Veterans of Foreign Wars and the American Legion.
He lives in Ponte Vedra Beach, FL with his wife Casey Black DeSantis, an Emmy award-winning television host.
Posted on | July 29, 2015 | 1 Comment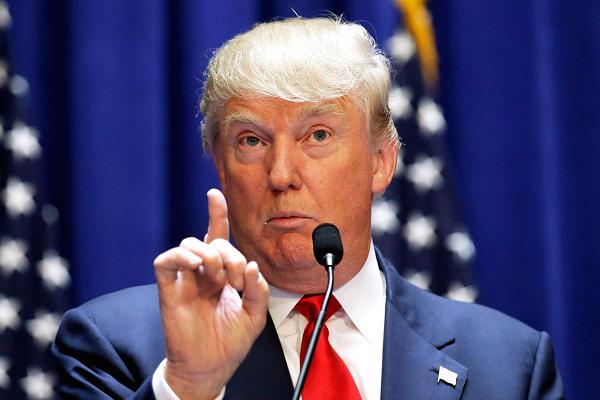 SAVAGE: 'You're The Winston Churchill Of Our Time'…
Posted on | July 29, 2015 | 9 Comments
In the news
Posted on | July 29, 2015 | No Comments
As the Media Research Center noted, the PPP poll found that 34% of self-identified Hispanic respondents had a favorable opinion of Trump. This was higher number than many of his Republican rivals, including former Florida Gov. Jeb Bush (R), who was slightly behind with 31%. Sens. Ted Cruz (R-Texas) and Marco Rubio (R-Florida) had 30% and 29% favorable ratings, respectively, among Hispanic voters.
Read more: http://www.businessinsider.com/donald-trump-poll-hispanic-vote-hillary-clinton-2015-7#ixzz3hJSoYsS6
Posted on | July 29, 2015 | 8 Comments
By Susan Cornwell WASHINGTON (Reuters) – A conservative member of the U.S. House of Representatives filed a motion on Tuesday to try to oust fellow Republican John Boehner from his leadership position, saying he was tired of a "punitive culture" against dissidents in the lawmaking body. It is…
Posted on | August 1, 2015 | No Comments
Posted on | August 1, 2015 | No Comments
Homeland Security Secretary Jeh Johnson asked a judge not to find him and other Obama administration officials in contempt after his agency recovered work permits mistakenly issued after the court halted a controversial immigration initiative.
Johnson said the government reclaimed all but 22 of the 2,500 offending permits and corrected federal computer databases to invalidate the rest, according to a report filed late Friday in federal court in Brownsville, Texas. Administration lawyers said the effort should prove Johnson and other top immigration officials have been sufficiently compliant to head off a contempt hearing set for later this month.
U.S. District Judge Andrew Hanen ordered President Barack Obama's program halted until a trial can be held over a lawsuit by 26 states. Hanen has repeatedly chastised White House lawyers and immigration officials for their "cavalier attitude" about violating his order and accused them of dragging their feet.
Posted on | August 1, 2015 | No Comments
After Valerie Harper was rushed by ambulance to the hospital Wednesday night, a source close to the family tells ET that her family says she is now in a coma. The 75-year-old actress was found unconscious backstage at the Ogunquit Playhouse in Maine, where she was performing in the musical, Nice…
Posted on | August 1, 2015 | No Comments
Posted on | August 1, 2015 | No Comments
Posted on | August 1, 2015 | No Comments
Posted on | August 1, 2015 | No Comments
Posted on | August 1, 2015 | No Comments
Posted on | August 1, 2015 | 1 Comment
Posted on | July 31, 2015 | No Comments

Posted on | July 31, 2015 | No Comments
Posted on | July 31, 2015 | No Comments
Posted on | July 31, 2015 | No Comments
Real estate developer Donald Trump is continuing his strong showing in the GOP presidential polls, leading in Arizona in a new poll of top-10 candidates conducted by Phoenix-based MBQF Consulting.
Respondents to the automated telephone survey were given a choice of the top 10 candidates as recently determined by a Politico story, pollster Mike Noble told The Arizona Republic. In that poll, recently announced candidate Ohio Gov. John Kasich barely missed the cut and was not included in the survey.
Trump was the favorite of 26.5 percent. He was followed by Wisconsin Gov. Scott Walker at 12.6 percent and former Florida Gov. Jeb Bush at 12.1 percent.
Retired neurosurgeon Ben Carson, 8.7 percent
Texas Sen. Ted Cruz, 6.0 percent
Former Arkansas Gov. Mike Huckabee, 3.9 percent
Florida Sen. Marco Rubio, 3.9 percent
Former Texas Gov. Rick Perry, 2 percent
Kentucky Sen. Rand Paul, 1.7 percent
New Jersey Gov. Chris Christie, 1.7 percent
A total of 21 percent were undecided.
Read Latest Breaking News from Newsmax.com http://www.newsmax.com/Politics/poll-donald-trump-arizona-lead/2015/07/30/id/659725/#ixzz3hVY6QX86
Urgent: Rate Obama on His Job Performance. Vote Here Now!
keep looking »